Direct van transfer from El Nido to Port Barton or from Port Barton to El Nido. Pick-up at your hotel only in Town Port Barton picture. Pick up from El Nido Town and Corong Corong beach except Caalan beach. The journey takes 166 km. and 4 hours. Departure time from El Nido 8 AM and 1 PM. From Port Barton to El Nido 8 AM, 1 PM and 5 PM.
If you want a transfer without other passenger, choose Private transfer ⋙  Before booking, please read the Important Notes tab.

Important notice ✍
✱ Pick up ONLY  in Town of Port Barton​. (picture below) Expect the car on the hotel's reception desk or in the rooms. All times is approximate, it depends on many factors +/-30 min
✱ If you arriving from the islands resorts in Port Barton – pick up at coast guard of Port Barton​ / Gas station Caltex!
✱ No pick up on Caalan beach in El Nido, there is no road for the car. You can choose other hotel for pick up or we can suggest you to wait in the gate of El Nido Garden Resort
✱ Drop off in El Nido on Bus terminal El Nido or in Corong Corong Beach on the way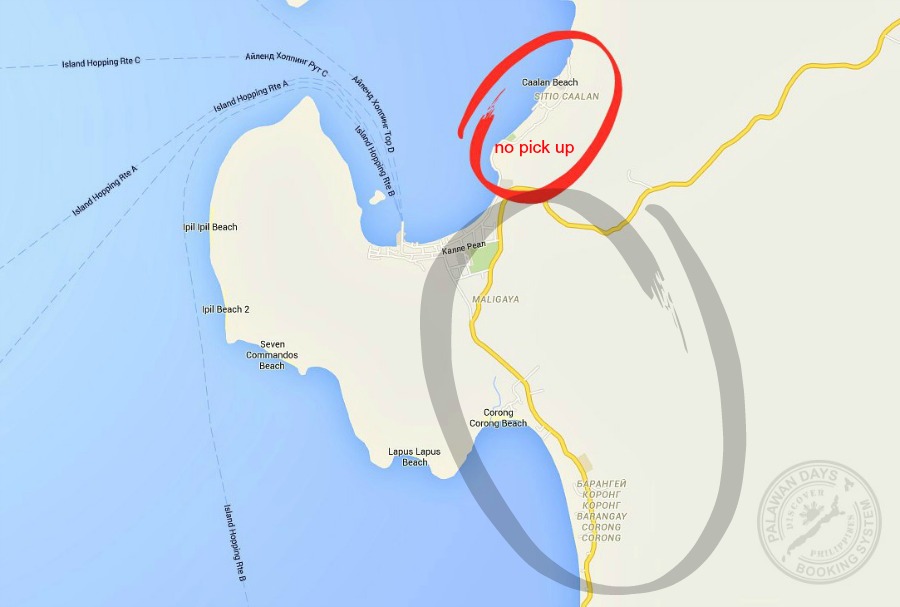 ✱ Palawan Days or Operator reserves the right to cancel any bookings any time!