The Nagtabon beach located on the west coast of Palawan island, 34 km from the new International airport Puerto Princesa. The road there from Puerto Princesa on a motorcycle will take 40-50 min. Nagtabon in the length one kilometer. On the beach still no electricity and no mobile signal. It still has not too much people on weekdays, there are several bungalows for rent and lunch cottages, local restaurants where you can have a snack, barbeque, swiming gears for rent. The beach has a very comfortable and smooth approach and soft sand without rocks and algae. Open 24 hours. Lot for sale near to Nagtabon beach ⋙
14. Private van transfer Puerto Princesa – Nagtabon Beach

★★★★★
Location: Palawan / City: Puerto Princesa
380 ₱ (7 $) - 3,800

₱

(72 $)
Booked: (2)
Round trip by mini bus to the west coast of the island of Palawan. The beach Nagtabon located 34 km. from the city of Puerto Princesa. Number of passengers from 1 to 10 persons. Travel time one way about 50 min. The working time of vehicle – 6 am to 4 pm.
  MOST POPULAR TRANSFERS ON PALAWAN ↷
H

ow to get Nagtabon beach by self
You need to turn from the national road at 23 km (after 22 columns) of the northern road. On the left  turn have a big tree and a school, on the right is a gas station and a shop.
After turning left you need to drive about 10 minutes.  Then turn left towards the beach of Nagtabon. If you drive right up, after 500 meters you will see a beautiful panoramic view of the Nagtabon beach.
Photo from the overview point
07. Honda CRF-150 Fi

★★★★★
Location: Palawan / City: Puerto Princesa
930 ₱ (18 $) - 1,250

₱

(24 $)
Booked: (0)
The most powerful 150cc engine in it's class equipped with PGM-Fi fuel injection system that delivers high Off-Road performance. 5 Speed manual clutch. Aluminum 18 rear and 21 inch front rims. Swingarm Mono-shock. High ground clearance 285 mm. Front and rear disc brake system. Fuel tank – 7.2 l. Curb Weight – 125 kg. Mileage 0 km.
Nagtabon beach
.
.
.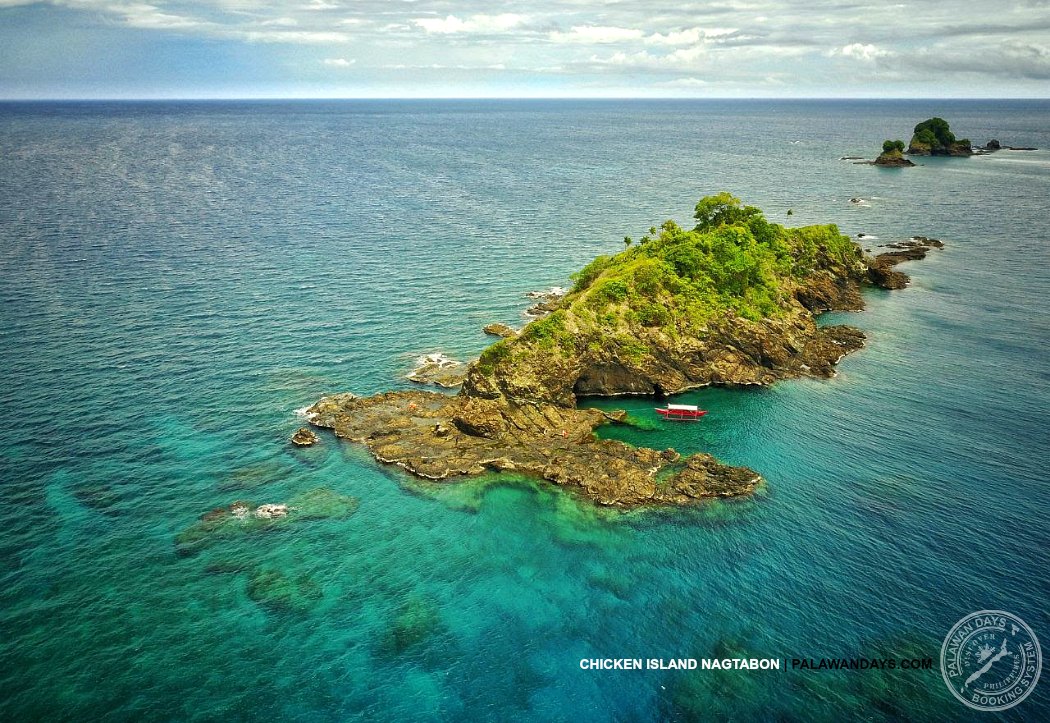 Chicken island. 15 min ride by boat from Nagtabon Beach. 1000 php round trip
.
.
.
Dandino Bungalow Nagtabon Beach

★
Location: Palawan / Puerto Princesa / Beach: Nagtabon
1,000

₱

(19 $)
Booked: (0)
2 storey cottage on Nagtabon Beach. Clean sea water at any season! Electricity at evening from generator, water, mosquito net. Not yet mobile signal. Grilled fish, chicken with rice 3-4$, coconut 0,8$ You can hire a boat to the neighbor "chicken island" Also motorbike for rent available for riding around and enjoy sunset.
  MOST POPULAR TOURS ON PALAWAN ↷