Coron is a municipality in the province of Palawan, the Philippines, including the eastern half of the main island of Busuanga, Coron the island and about 50 other small islands nearby. All these islands are part of the Calamian Islands in the northern part of the province of Palawan. Municipality has a population of 52000 + people. The city infrastructure is not so well developed. There is no beaches in the city town and near, and few ATMs are only in the center of the town. Come here travelers are advised to exchange money in advance!
Coron – it's white sandy beaches in the clear sea, it is a semi-salty lakes surrounded by huge karst cliffs, this sunken ships, caves, bamboo bungalows and luxury hotels on the islands. Today Coron is located in a National Park. The rich nature of the island boasts a variety of exotic plants, mammals, amphibians, reptiles, as well as endemic species of birds. A variety of species makes Coron very popular destination for ecotourism. During the Second World War in 1944, the Americans have sunk off the coast of 12 Japanese ships. Place of burial and the surrounding waters with rich underwater world today one of the best attractions for diving enthusiasts from around the world.
The main attraction of the island of Coron is famous seven lakes. The most beautiful and cleanest of them recognized Kayangan Lake. Kayangan Lake is considered the cleanest Philippine pond with fresh water. Water in the lake is so clear that you can admire the underwater world at a distance of tens of meters.
W

eather Coron
Average rainfall mm
Jan. 18.5 | Feb. 14 | Mar. 15.4 |  Apr. 38.1 |  May. 198 | June. 360  | Jul. 479.9  | Aug. 466  | Sep. 447  | Oct. 250  | Nov. 118  | Dec. 74
Average rainy days
Jan. 3 | Feb. 2 | Mar. 2 |  Apr. 3 |  May. 12 | June. 19  | Jul. 26  | Aug. 22  | Sep. 21  | Oct. 17  | Nov. 9  | Dec. 6
E

xcursions on Coron (Busuanga)
There are many local tour agencies offering tours to the neighboring islands. Prices in the group (when a lot of people on board) type of holiday starting from 700 PHP = 13.4 USD. We ride for several individual routes and today selected the most interesting and worthy places to visit.
  MOST POPULAR TOUR IN CORON ↷
City point (Mt. Tapyas)
Climb the 721 steps (30 min.) to the mountain where is a huge cross. On top of the mountain offers stunning views of the bay and the island of Busuanga and Coron. Start your climbing at 5Pm in time to enjoy a spectacular sunset.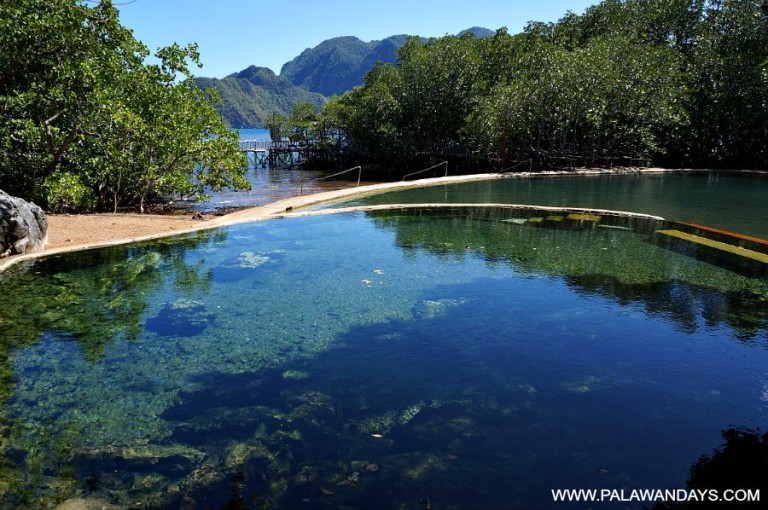 Hot Springs
Near the town of Coron located hot springs pools. The price of such a pleasure: for adults 200 PHP = 3.83 USD children from 5 – 10 years 100 PHP = 1.91 USD per person per day. Sources located in the mangroves on the coast. The temperature around 38 degrees Celsius. During the day there is almost no people. In the evening, at the end of the day after the tours, the sources are filled with tourists. There's a grill for a barbecue. At the entrance cold drinks for sale.
Concepcion Falls
Situated on the west of the Busuanga Island, one can visit Concepcion Falls. Road there will take only take about 30 – 40 min on motorbike. minutes to an hour to reach the town proper. Locals and foreigners visit the falls very rare in the weekdays.It is quite a change of scenery to the waterfalls, green forest and crisp mountain air. GPS: 12.055913, 119.976570

The zoo with giraffes
Covering an area of 3,700 hectares Calauit Island is a nature reserve and home to several endemic animals of the African continent. At the natural surroundings, where there are all medium and the plants and animals can live with the absolute minimum human intervention.
To Coron by plane
► The easiest and fastest way to get to Coron (Busuanga Island) is by plane from the capital of the Philippines, Manila, by the companies www.cebupacificair.com and www.philippineairlines.com Approximate ticket prices from 2000 to 4000 in one way.
► The airline www.flyskyjetair.com makes direct flights from Manila to the island of Busuanga (Coron, Palawan)
► With the company www.air-swift.com, you can fly straight from the city of Puerto Princesa to Coron Busuanga, as well as from El Nido to Coron
► The airline www.airjuan.com makes direct flights between the island of Boracay (Caticlan) ⇄ Busuanga (Coron), Puerto Princesa ⇄ Coron, and from El Nido to Coron
According to the latest requirements, all passengers entering the country are required to carry a printed copy of the electronic ticket or a return ticket for further directions. Otherwise, visitors may be denied entry into the country. As well as the passport expiration date not less than 6 months! Images of e-tickets presented in electronic devices such as a laptop or smartphone screen according to the law can not be accepted.
Airport Francisco B Reyes Airport is located in the heart of Busuanga Island, a 40-minute drive from the town of Coron. To get from the airport to the city need to take the minivan which gathers passengers directly at the exit of the arrivals area, as there are on duty tricycles. The standard fee for a ticket of 150 pesos per person. If you need a private van transfer to the town of Coron book below

---
001b. Private van transfer Airport Busuanga – Coron Town

★★★★

★
Philippines / Palawan / Busuanga (Coron)
1,790 ₱ (34 $) - 2,000 ₱ (38 $)
Booked: (20)
Private transfer from Francisco B Reyes Airport to Coron Town or from Coron Town to airport. Pick up from your hotel or airport. In airport after exiting door of airport, look for your name on the signet board in a crowd greeters. Travel time 40 min. Cars: Toyota HiAce Commuter 2016 or Toyota HiAce Grandia 2017
To Coron by sea
From Manila 2Go Ferry's same Super Ferry depart once a week on Friday and make a one-hour stop on Busuanga on Saturday and arrive in Puerto Princesa Palawan on the same evening at 22.00. The journey to Coron from Manila takes around 14 hours. To Puerto Princesa 28 hours
Between El Nido ⇆ Coron (Busuanga) or San Jose Mindoro ⇆ Coron (Busuanga), passenger ships and small high-speed vessels run. Flights in bad weather are often canceled. Never book a flight from Coron if the day before the planned flight you will have a boat trip by sea. In high season (approximately November – April) very often the boats if fully booked! Take care of booking for the boat in advance. Schedule and prices see below.
---
09. Fast Craft Montenegro lines El Nido – Coron

★★★★

★
Philippines / Palawan / Coron - El Nido
1,960

₱

(38 $)
Booked: (1097) June (7) May (6)
Ferry El Nido ⇄ Coron Busuanga. Departs daily. From El Nido at 6am. From Coron to El Nido at 12 noon. Travel time 3,5 hours. Aircon, TV, toilet on the board. Be informed, the number of passengers is limited 260 persons for one way per day.
---
09b. Boat Bunso Transport El Nido ⇄ Coron (Busuanga)

★★★

★★
Philippines / Palawan / Busuanga / El Nido
1,290

₱

(25 $)
Booked: (24)
Schedule boats: El Nido to Coron. 8 AM: Tuesday, Wednesday, Thursday, Friday, Saturday, Sunday
Schedule boats: Coron to El Nido. 8 AM: Monday, Tuesday, Wednesday, Thursday, Friday, Saturday
---
09a. Boat Bunso Coron Busuanga ⇄ San Jose Mindoro

★★★

★★
Philippines / Palawan / Busuanga - Mindoro
1,480 ₱ (28 $)
Booked: (106) June (1) May (3)
Schedule Coron to San Jose Mindoro: Monday – 8:00. Wednesday – 8:00. Friday – 8:00. Boarding time 7:30AM. Boat Schedule from San Jose Mindoro to Coron: Tuesday – 8:00. Thursday – 8:00. Saturday – 8:00. Boarding time 7:30AM. Travel time 7 hours. Booking accepted min 5 days before the trip!
H

otels in Coron |

 
Find best deal
  MOST POPULAR SEA TRANSFERS ON PALAWAN ↷