Palawan its a small archipelago with one main island and a large set of relatively small islands around. Palawan with the neighboring islands – is the largest province in the Philippines. The island itself is 425 km long, and a width from 8 to 40 km. The area of the island is more than 12,000 sq.km. where more than 56% are forests. The central mountain range divides into two parts of Palawan, where the climate is different. The administrative center – city of Puerto Princesa located in the central part of the island.
SECURITY The island is considered one of the safest in the Philippine archipelago, there are no earthquakes and there is no volcano. Typhoons visiting the Philippines every year, go north, without provoking extraordinary situations on the island.
RATING Palawan is one of the most interesting places in the world for travelers, nature lovers and diving. In the rating of the islands of the National Geographic Traveler magazine in 2007, Palawan took first place in Southeast Asia and 13th in the world. The largest publisher of tourist guides, "Lonely Planet" chose the island as one of the "best tourist destinations" in 2014. At the end of 2014, in the list of the best islands in the world according to the American travel journal, ahead of 147 other islands around the world, Palawan, with its world-famous Underground River, was recognized as the most beautiful island in the world in the 27 th annual survey of readers of Conde Nast Traveler. In July 2016, the magazine "International magazine Travel and Leisure", the island was recognized as the best of the dozens of the best islands in the world, and in 2017 Palawan again took the first place dozens!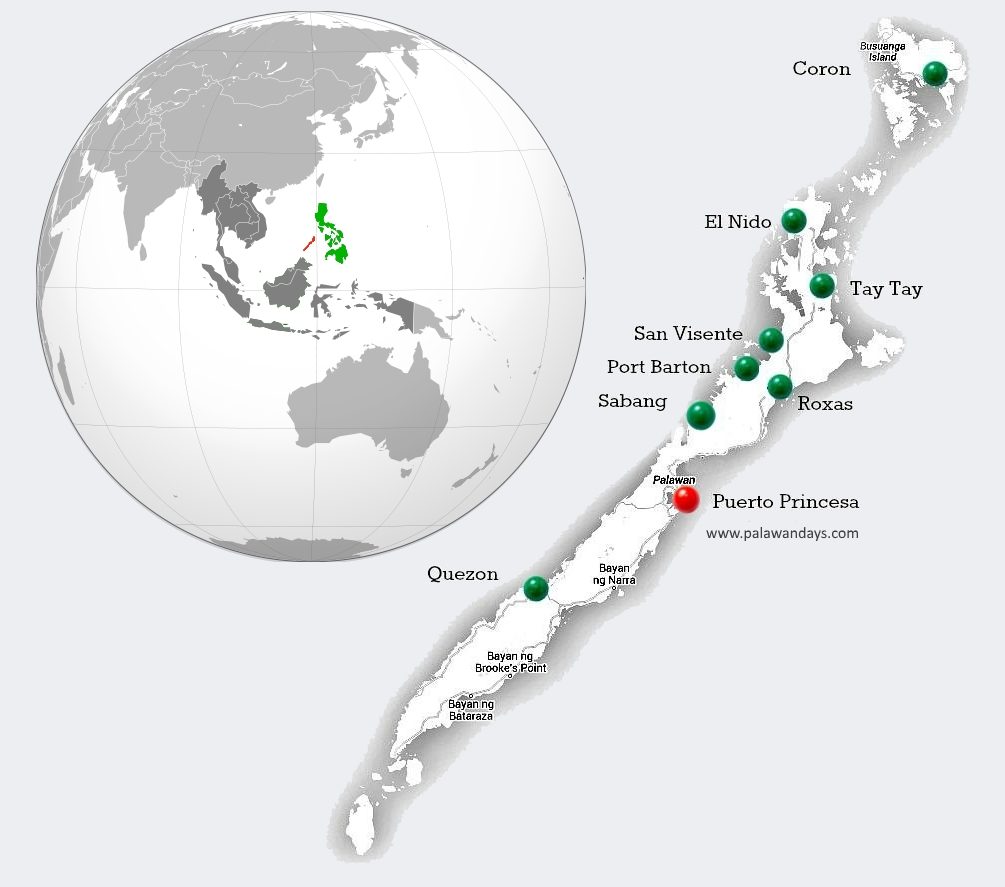 B
eaches of Palawan
Since the province of Palawan is a mini archipelago where is 2,000 islands, it certainly has a huge coastline. There is a huge number of beautiful, accessible or completely remote and wild beaches, but most of them are located on the nearby islands, which can be reached with excursions or by renting an individual boat. Those beaches that are located on the main island are also accessible by transport. In the centers of the main resorts, as a rule, beaches do not belong to tourist attractions, and to get to a good beach you need to rent your own transport or hire local tricycle. The most beautiful beaches are located in El Nido, Coron and Balabac.
Nearest to the capital, a nice beach 34 km from Puerto Princesa Airport – Nagtabon ⋙
Next to the Nagtabon beach – Talaudyong ⋙
Beaches of Napsan ⋙ in 60 km. from the capital
W

here to go on Palawan |
Popular Destinations
Puerto Princesa – island's capital and largest city. Sabang village and entering into the world heritage Underground River. The old capital of the times Spanish colonization – Tay Tay. Unknown Port Barton and pearl of the Philippine archipelago – El Nido. Coron Island (Busuanga), with its sunken ships and cleanest lakes in karst rocks and. Below is listed a detailed description of these destanation of the province.
N

ew
Destinations
Roxas – small city with islands around between El Nido and Puerto Princesa, San Vicente – where the longest beach Long Beach in the Philippines located, Quezon town with its unique caves Tabone, and Balaback – кemote islands in the south of the island
B

ook your hotel in Palawan
Book your hotel in advance. In the high season there may be no vacant rooms. keep in mind that the island is long and that from the city to the city a long distance, plan the route correctly so as not to waste time on your journey
M

oving around the island of Palawan. Transport
On the island you can travel by local buses – which is cheaper and longer, plus you need to communicate with the locals and have minimal information about where and how to get to. Bus terminal ⋙ On the vans in general or in individual execution with a driver – which is more expensive, faster and easier find in different directions. If you value comfort and on vacation prefer to just relax, choose individual transfers with driver. Transfers ⋙ If you want to see a little more, be yourself on the wheel and you have driver experience, choose a Motorcycle ⋙ or Rent a car ⋙ On a rented motorcycle or car drive around the island of Palawan much more more interestingly but more expensive.
Puerto Princesa
Sabang
Roxas
Port Barton
San Visente
Tay Tay
El Nido
Quezon (Tabon Cave)
Rio Tuba
Puerto Princesa

–

73

134

145

177

196

267

148

255

Sabang

74

–

133

144

174

206

266

206

314

Roxas

134

133

–

32

41

73

132

267

375

Port Barton

145

144

32

–

72

105

164

277

387

San Visente

177

174

41

72

–

56

116

307

419

Tay Tay

196

206

73

105

56

–

60

340

450

El Nido

267

266

132

164

116

60

–

400

507

Quezon (Tabon Cave)

148

206

267

277

307

340

400

–

146

Rio Tuba

256




Scroll >>>

314

375

387

419

450

507

145

–




<<< Scroll
  MOST POPULAR TRANSFERS ON PALAWAN ↷
01. Underground River tour from Puerto Princesa

★★★★

★
Location: Palawan/City: Puerto Princesa
2,500

₱

(43 $)
Booked: (87) March (3) February (5)
The tour to the Underground River is for the whole day. Tour include 1,5 hour air condition transfer from the hotel in Puerto Princesa (pick up at 7:50 – 8:40), lunch in Sabang, the boat to the river and through it, environmental fee and guide. FREE for children below 3 years old. Return back to the hotel or drop-of in the city at 5 PM.
01ab. Underground river tour and shared transfer to El Nido

★★★

★★
Location: Palawan / City: Puerto Princesa
3,200

₱

(54 $)
Booked: (153) March (2) February (5)
1. Underground River tour Include: 1,5 hour air condition transfer from the hotel in Puerto Princesa City or hotel along the road to Sabang (pick up at 7:30 – 8:30AM), lunch in Sabang, the boat to the river and through it, audio system, environmental fee, permit, guide and transfer to El Nido. All inclusive! Free for children below 2 years not occupying a separate seat. 2. Transfer from Sabang (Underground River) to El Nido with a change to another minibus. If you need private van without change van, click here ⋙
  MOST POPULAR TOURS ON PALAWAN ↷
R

ent a Motorcycle or a Car

The roads along the main two directions of El Nido and Sabang (the Underground River) have already been made. The trip to El Nido will take from 5.5 hours, to Sabangg 2 hours. From Puerto Princesa to Port Barton is 3.5 hours. Trip can be carried out on a motorcycle and on an automatic scooter. On the way there are refueling, tire service, roadside cafes.

By car to Port Barton about 2.5 – 3 hours. To El Nido about 5 hours with one stop. For rent a car need a cash deposit of $ 100 with a photocopy of your passport + payment for all rental days. For driving a car required international driving license (in practice, you can do without it). After booking a car, delivery to the airport or your hotel is possible (fill in the date, time and flight number when paying). The minimum rental period for region of Puerto Princesa is 2 days (200 km). If you are traveling to El Nido or Port Barton, the rental period must be at least 3 days.
W

e are in social networks